At some point, I don't remember when, I had a burning desire to write this book. Like most memoirs, mine too begins in childhood. When I was six years old, my father suffered a stroke that left him partially paralyzed and mentally impaired. My world, which until that moment had been idyllic, turned grey. My father died five years later and despite my mother's efforts to ease my sadness, the grief of losing him lingered a long time. I wished—wish—I had had him longer and known him better.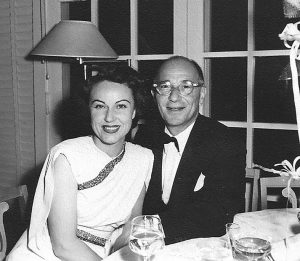 This book is my attempt to complete the circle, to see my family—my mother, too—whole. In writing about my parents, I have discovered that although each had already led a life filled with adventure and drama and accomplishment during the Golden Age of Hollywood, not until they met and fell in love did each discover in each other what they had been missing. I have retraced their steps to discover where they came from—my mother from a pioneering Mormon family and my father, the son of Russian Jewish immigrants. I have met their families and friends and all the larger-than-life people who influenced their lives from the silent era through the talkies and World War II. I have discovered their extraordinary love story and how they found each other later in life. Their marriage may not have lasted years, but it was a remarkable one.
This is their story and mine, too.